The birth of photomontage is fascinating. Hannah Hoch, one of the leading Berlin Dadaists, said of the art form, "Our whole purpose was to integrate objects from the world of machines and industry in the world of art". Technological advancements in society were translated through this process of creating an image by juxtaposing pre-existing photographs. In a sense, it was the modern day Photoshop. The majority of the photomontages being made during it's early stages was political propaganda. One of the most notable artists was John Heartfield. I was particularly drawn to his piece Adolf The Superman (seen above), because he used the notion of simplicity paired with realistic images to communicate a clear message. This was the basis of propaganda. As the article stated, "Heartfield insisted on having a copy of the paper on show beside the original to underling the fact this his works were political propaganda aimed at a wide public". Another political piece that captured my attention was Gustav Klutsis' 1930 Soviet poster seen above. Again, he communicated a clear message by using color, simplicity and composition.
While this form of photomontage was the most dominant at the time, there were many artists who took the art form to another level. I became really interested in the Futurist photomontages that used buildings to create a sense of chaos. Artists like Paul Citroen used pieces of architecture to create a whole new side of photomontage.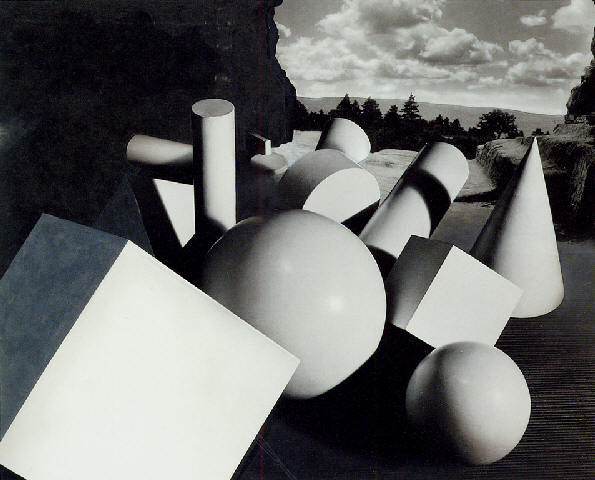 Another fascinating aspect of photomontage is the way in which artists played with the concept of space. Artists like Max Ernst used displaced objects in a landscape to create a whole new sense of reality. They were Surrealist photomontages. The article stated, "The isolation of an object can be as important as its incongruous juxtapositions". One of the artists that interested me the most was Herbert Bayer. While he was not considered a member of the Surrealist group, he played with objects in space to create stunning images, as seen in Metamorphosis (above).
.
For our photomontage assignment, I'm hoping to combine the political propaganda aspect of the art form with the subtleties and abstractness of the Surrealist pieces. My initial intention is to explore the topic of animal rights by juxtaposing images of animals within unusual landscapes and settings.